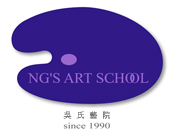 關於我們 - 元朗校


學院簡介 INTRODUCTION
吳氏藝院建立於1990年,1996年在中環開辦分院,推廣藝術25年,2021年圓滿。元朗校繼續教導繪畫,推廣文化藝術。美術作品曾在香港大會堂、法國昂熱古堡、國際金融中心、藝穗會、置地廣場、香港視覺藝術中心等展出,並出版畫冊。每年學生均參加重要的國際及香港繪畫比賽,並次屢獲殊榮。
NG'S ART SCHOOL Yuen Long was opened in 1990. It offers elective fine art and music courses. Fine art courses including oil painting, printmaking, drawing, gouache, water colour and children's painting. Exhibitions of works have been held in the Hong Kong City Hall, French Castles, Fringe Club, Landmark and Hong Kong Visual Arts Centre...etc.
Book of paintings from Ng's Art School have been published. Every year, our students participate in the Important International and Hong Kong painting competition and win prizes frequently.
第五屆師生畫展

Exhibitions of works by instructors and students 2002


導師簡介 INSTRUCTORS
吳炫樺 (元朗校藝術總監)
畢業於廣州美術學院並獲文學學士學位。曾獲香港藝術發展局頒發視覺藝術發展獎助,於第九屆全國美術作品展獲獎,並在奧林匹克藝術比賽獲平面作品第一名,曾在香港舉辦三次個人畫展並出版畫集及石版畫原作書。作品被香港藝術館、香港文化博物館、香港藝術發展局、香港駐三藩市、華盛頓、日內瓦及布魯塞爾經濟貿易局,美國航空公司等機構及私人收藏。
Miss Ng Yuen Wa (Art Director of Yuen Long School)
Graduated from Guangzhou Academy of Fine Arts and got a Bachelor of Arts Degree. She was awarded a Fellowship for Artistic Development by The Hong Kong Arts Development Council, the First Prizewinner of Olympic Arts and Sport Contest 2000 as well as the Prize of Ninth Chinese Fine Arts Exhibition. Her works are owned by the Hong Kong Museum of Art, Hong Kong Heritage Museum, Hong Kong Arts Development Council, Hong Kong Economic and Trade offices in San Francisco , Washington, D.C., Brussels and Geneva, United Airline and art collectors both in China and overseas.
張鏸之 (美術導師)
自少於吳氏藝院習畫,熱愛繪畫。2003年畢業於香港八方藝術學校與香港專業進修學校合辦課程並獲藝術設計文憑。2005 於第三屆國際藏書票展獲獎,曾舉辦多個展覽及工作坊,到訪北京、澳洲、英國、法國、德國、瑞士、奧地利及日本等地作藝術交流。現為吳氏藝院導師及香港美術教育協會會員,致力於地區的兒童及青少年美育發展,以及從事藝術創作。
MISS Cheung Wai Zhi
She had studied in Ng's Art School since she was young, she love drawing and painting very much. She graduated from Hong Kong College of Technology and got a Art and Design Diploma. Now she had been teaching in Ng's Art's School.


藝院環境 ENVIRONMENT